Kitefoil Coaching
Are you keen to learn to foil?
Or looking to improve your skills and crack your foiling gybes and tacks?
Avoid the constant crashing and improve quickly with a better understanding of how your foil really works in conjunction with you and your kite.
Progression Live Coaching is offering you a wide range of options from week-long Camps, weekend Clinics or private 1-on-1 sessions. Also check out our comprehensive coaching videos, Kitefoiling Volume 1 Collection. Read on to find out more and get in touch if you have any questions or wish to book.
Camps
Week long overseas trips
Clinics
1 or 2 days / small groups
Sessions
1-on-1 private coaching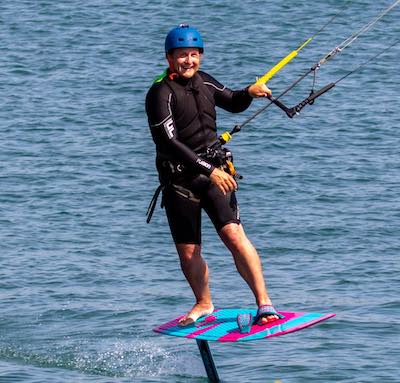 "Rob and Danny run an awesome holiday – looked after from morning briefing until the evening having eaten so much at a fantastic restaurant I feel like I could rupture. I've been on other kite trips – these guys run a trip that is miles better than anyone else!"
Join our Monthly Newsletters
Want to be kite buddies? Be the first to get coaching tips straight to your inbox along with our Live coaching newsletter for camps and clinics
Sign up
If you are keen to really improve your kite foiling then the focus, insight and continual feedback from a week-long Progression Camp, is just what you need.
Now in our fifth year, each of our locations is tried and tested to offer you the best foiling locations around the world. If you haven't been on one of our camps before then learn more about our coaching philosophy and how we can make you a better kitefoiler and kitesurf.
Our private 1:1 coaching will resume on the 1st May running for our home beach of Shoreham-by-sea, on the south coast of England. Group clinics will be happen too, join the Sussex mailing list to find out when they are running.
We can also run private clinics for groups of friends, so get in contact for more details.
Sussex Coaching – Join the Mailing List
When we are in the UK, over the summer,  we use the following mailing to contact people each week and plan clinics and private coach for the week. Join up to stay up to date on all our coaching Sussex, UK:
One-on-one private sessions are the quickest way to improve and gain the understanding so you can keep learning every time you go on the water.
We now also offer kite surfboard coaching whether you are attempting your first session on your surfboard, looking to improve your core skills or working out hope to break your fins out on the wave face. Danny is also pretty handy at strapless airs so if you are keen to have a go at strapless freestyle, get in touch.
We offer two main packages:
Learn to kite hydrofoil: 2.5h / £180 (subsequent lessons 2h/£150)
If you want to master the basics of foiling with the minimum amount of crashing a private session will see you progress the fastest whilst instilling the core skills you need to understand to make the most of hydrofoiling.
We'll give you an overview of all the equipment, some of the theory behind how hydrofoils work and support you through your first runs on a foilboard using the BBTalkin headsets, so we are in constant contact.
By the end of this first session, most people will be practising short runs on the foil, in control and will experience the thrill that is foiling!
We supply the board and foil, so you are using the right equipment to make this tricky first session far easier. We'll also supply a helmet and impact vest
You need to have your own kites, wetsuit and harness.
Improve your foiling – 2h / £150
Whether it's improving your foiling technique or mastering your foiling carves, foot changes or tacks, a Progression Session will be the most productive 2 hours foiling you've ever had!
We'll ride together, chatting the whole time using the BBTalkin headsets, allowing us to quickly demonstrate, practice, analyse and fine-tune your technique. It's an intense couple of hours but a really fun way to learn.
We'll supply a helmet and impact vest,
You'll need to have your own foil, kites, wetsuit and harness.
Where and when
Both Rob and Danny are based in Shoreham/Brighton on the South Coast of the UK. During the Spring and Summer, 1-on-1 session are available in Sussex, if you live further afield, get in touch and we can make a plan.
Meet your Coaches
Danny Morrice
Pro Kiter, Airush International Team Rider
From competing as a teen to travelling the world with the sport, Danny has over 12 years experience with kitesurfing and has grown up living and breathing it. Now one of the UK's most competent free ride foilers, Danny is passionate about coaching and helping people gain access into this new area of the sport.
Rob Claisse
Progression owner, script writing, filmer, editor…
Rob's passion has always been in watersports, a past world champion windsurfer, 17 years experience as a kitesurfer and for last 13 years helping over 200,000 kiters learn and improve with his Progression series of kitesurfing videos, DVDs and apps. Now his own obsession for kite foiling, has led him to find ways to make foiling accessible to the whole kiting community.