Kitefoiling Coaching Camps

Viana do Castelo, Portugal

16th - 23rd September 2023
Improve your kite foiling with 6 days of coaching with Danny and Rob, staying in the beautiful FeelViana Hotel.
5 spaces left
Viana do Castello is one of our best camps and one you won't want to miss. This will be out fourth year at this location with 3 camps over the season – it's that good! Here's why;
Based in the premium FeelViana sports hotel. Surrounded by beautiful pine forests and a short walk to the kite beach. Price is for two people sharing and access to the infamous FeelViana buffet breakfasts, their incredible spa, gym and a wide range of sports facilities that will keep you fit and entertained all week
A stunning sandy beach with butter flat water at one end and waves at the other. This is a huge playground for all your kiting desires. Bring all your kitesurf toys if you want, an evening downwinder to the wave spot is always on the cards for those who still have the energy.
Thermal winds that deliver perfect cross shore breezes for delicious kite foiling conditions.
Unique filming and photography opportunities to maximise your kite foiling development. All images are taken right from the harbour arm so we capture all your moves up close.
Max 8 guests with 2 coaches so lots of personalised coaching
Base room is a garden room, Options available for single occupancy, room upgrades, sea views and family chalets. Our best camp for your partner or family to join (seen more below).
Open to all kitefoilers as long as you can ride in both directions on your foil and hold your ground upwind.
Come and enjoy Progression's Live coaching techniques that deliver a unique program designed to help you achieve all your kite foiling goals. Click here to find out more about our coaching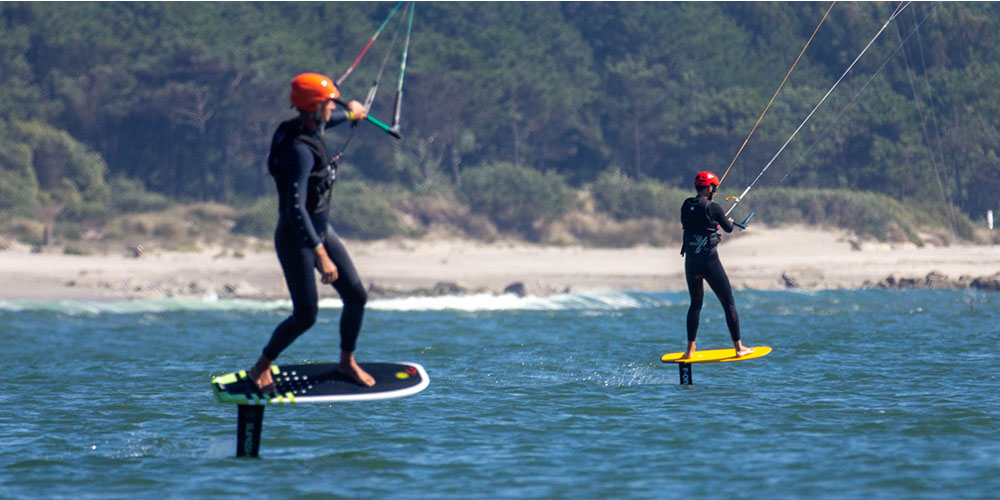 "Their aim is to help you to understand and become a better kitefoiler and they do exactly that, with video analysis, photos, one to one coaching with headsets – it doesn't get any better."
Steve, UK
From £1795 Shared room*
From £2265 Single occupancy
Wind and Weather
Thermal wind, if it's sunny and there is any north in the forecast the thermal will kick in!
We can expect anything from 10 – 30 knots
Kite sizes: Possibility for 15m – 4m depending on your weight, foil and experience
Air: 15-25 degrees / Water: 15 degrees – Wetsuit recommendation: 4:3 full suit. (Though in 2022 we did seem warmer water and 3:2 suits worked too)
Who is this clinic best suited to?
You already own your own hydrofoil
You've already had a few session and at a minimum are able to waterstart and ride along off the foil holding your ground upwind
Through to foilers who are up and riding comfortably on the foil but you want to improve your technique and learn gybes and tacks.
If you want to learn it on a kitefoil then we can help you master it!
Whatever your level do get in touch and we can discuss if this particular clinic will be best for you.

What is included in this price?
6 days coaching with Danny and Rob.
7 nights accommodation and breakfast at FeelViana – 2 sharing a room (price is for a Garden room), single occupation option available.
Shared locker for kit storage at FeelViana Watersports Centre.
Unique Progression Live camp t-shirt.
What's not included?
Flights (In the region of £200 – LGW – Porto).
Airport Transfer – Either private taxi or hire a car from the airport.
Lunch and dinner
Bring your Partner or Family
Of all our camps this is probably the best for anyone who wishes to bring their non-kiting partner. The hotel has lots to offer whilst we are out foiling and there is plenty of opportunities for you to sneak away and explore the town and surrounding area and still get plenty of coaching in during the afternoons.  We want your partner to feel they too are part of the group over the week, joining us for any of the other land-based activities and evening meals. Planet can also put together additional spa based packages, so just enquire when you book.
Booking with Planet
We work our travel partner Planet Kitesurf who will be able to assist you with your booking. All aspects of the accommodation, flights, transfers can be tailored to your needs and if you're interested in staying longer or even heading off for some other adventures whilst there, they will be able to sort this all out for you.
Still got questions?
Check out our Frequently Asked Questions page for further answers to common questions like What kit you should bring and can you bring your partner, along with many others. Or get in touch to chat with Rob and Danny about becoming a better kitefoiler.
Meet your Coaches
Danny Morrice
Pro Kiter, F-ONE Ambassador
From competing as a teen to travelling the world with the sport, Danny has over 15 years experience with kitesurfing and has grown up living and breathing it. Now one of the UK's most competent free ride foilers, Danny is passionate about coaching and helping people gain access into this new area of the sport.
Rob Claisse
Progression owner, script writing, filmer, editor…
Rob's passion has always been in watersports, a past world champion windsurfer, 20 years experience as a kitesurfer and for last 15 years helping over 200,000 kiters learn and improve with his Progression series of kitesurfing videos, DVDs and apps. Now his own obsession for kite foiling, has led him to find ways to make foiling accessible to the whole kiting community.
We have other camps, clinics and sessions available through out the year.
Camps
Week long overseas trips
Clinics
1 or 2 days / small groups
Sessions
1-on-1 private coaching