Kitefoiling Coaching Camps

La Ventana, Mexico

11th - 18th Mar 2023
Fast track your foiling with flat water, reliable wind and coaching from Danny and Rob
8 spaces left
Sadly we have had to cancel this camp as we left it a little late in the season to get bookings. But please get in touch if you are interested in a Kitefoiling camp in March 2024.
La Ventana has become the foiling mecca for North America, and after a force hiatus we're excited to be able to return.  Here's why:
La Ventana gives some of the most consistent foiling conditions on offer, the beautiful Sea of Cortez offers a playground like no other with a thermal wind generated by the vast mass of the Baja desert.
The Casa Verde Hotel is our partner for this camp. Located right on the shoreline in La Ventana we're able to ensure we catch the best of any conditions coming our way whilst staying in style.
Unique filming and photography opportunities to maximise your kite foiling development. We can get close to the action to ensure we capture all your mistakes, helping you to better understand how to fix them.
The consistency of the wind, relatively flat water and vast amounts of space ensure for the ultimate learning ground. With those that are confident we have some long up and downwinder options for some foiling exploring during the camp.
Options available for single occupancy, room upgrades and sea views.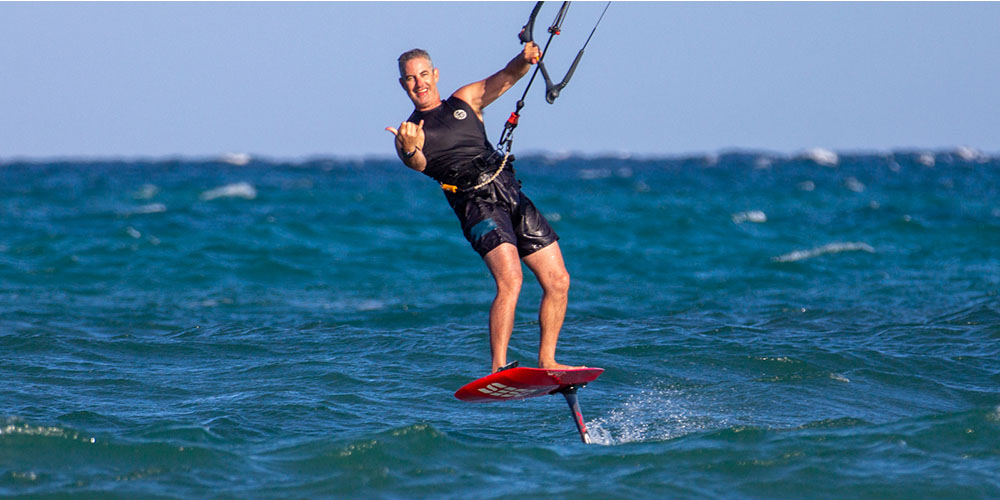 Come and enjoy Progression's Live coaching techniques that deliver a unique program designed to help you achieve all your kite foiling goals. Click here to find out more about our coaching
"I didn't just become a better kite foiler, I became a better kiteboarder"
Chris, USA – Mexico Camp 2019
From $2245 Shared room*
From $2665 Single occupancy
Wind and Weather
Thermal cross-shore wind consistent that kicks in from around 11am every day.
We can expect anything from 10 – 30 knots
Kite sizes: Possibility for 15m – 4m depending on your weight, foil and experience
Air: 15-25 degrees / Water: 20 degrees – Wetsuit recommendation: 3:2 Summer or shorty.
Who is this clinic best suited to?
You already own your own hydrofoil (rental options are available).
You've already had a few session and at a minimum are able to waterstart and riding along off the foil holding your ground upwind
Through to foilers who are up and riding comfortably on the foil but you want to learn or improve your gybes, foot changes, tacks and even jumps!
Whatever your level do get in touch and we can discuss if this particular clinic will be best for you.

What is included in this price?
6 days coaching with Danny and Rob
7 nights accommodation and breakfast at Casa Verde – 2 sharing a room, single occupation option available.
Unique Progression Live rast vest.
What's not included?
Flights
Transfer options available from La Paz and Los Cabos.
Lunches and dinner.
Booking with Progression
We are booking this camp directly – we'll handle everything included in the main camp price and then we can help you with advice on flights and organise transfers to and from the airports in Mexico. To book we'll require a $500 non-refundable deposit (refundable if we can find a replacement) and then the balance will be due 8 weeks before the camp.
Still got questions?
Check out our Frequently Asked Questions page for further answers to common questions like What kit you should bring and can you bring your partner, along with many others. Or get in touch to chat with Rob and Danny about becoming a better kitesurfer.
Meet your Coaches
Danny Morrice
Pro Kiter, F-ONE Ambassador
From competing as a teen to travelling the world with the sport, Danny has over 15 years experience with kitesurfing and has grown up living and breathing it. Now one of the UK's most competent free ride foilers, Danny is passionate about coaching and helping people gain access into this new area of the sport.
Rob Claisse
Progression owner, script writing, filmer, editor…
Rob's passion has always been in watersports, a past world champion windsurfer, 20 years experience as a kitesurfer and for last 15 years helping over 200,000 kiters learn and improve with his Progression series of kitesurfing videos, DVDs and apps. Now his own obsession for kite foiling, has led him to find ways to make foiling accessible to the whole kiting community.
We have other camps, clinics and sessions available through out the year.
Camps
Week long overseas trips
Clinics
1 or 2 days / small groups
Sessions
1-on-1 private coaching